We heard from a lot of people that we were brave for going camping with a new born. Newborns are easy. We were brave for camping with Joanna.
Every year around the Fourth of July, Matt's family has a camping trip. It includes all his Aunts and Uncles and their kids and grandkids on his mom's side. We look forward to it every year. Joanna, seen here sporting a marshmallow gun, was actually a pretty cute girl most of the trip. She doesn't like to sleep with a blanket on her though, which caused problems when it turned cold at night. Most of the camp heard her screaming in the middle of the night that she was "co, daddy, co". But putting a blanket over her brought screams so loud I'm sure those mountains are still ringing with them. We finally convinced her to double up on PJs, and thanks heavens the second night was warmer. Ginny had a couple bad throw ups, so I took some laundry down to my mom's half way through and got a shower for my trouble.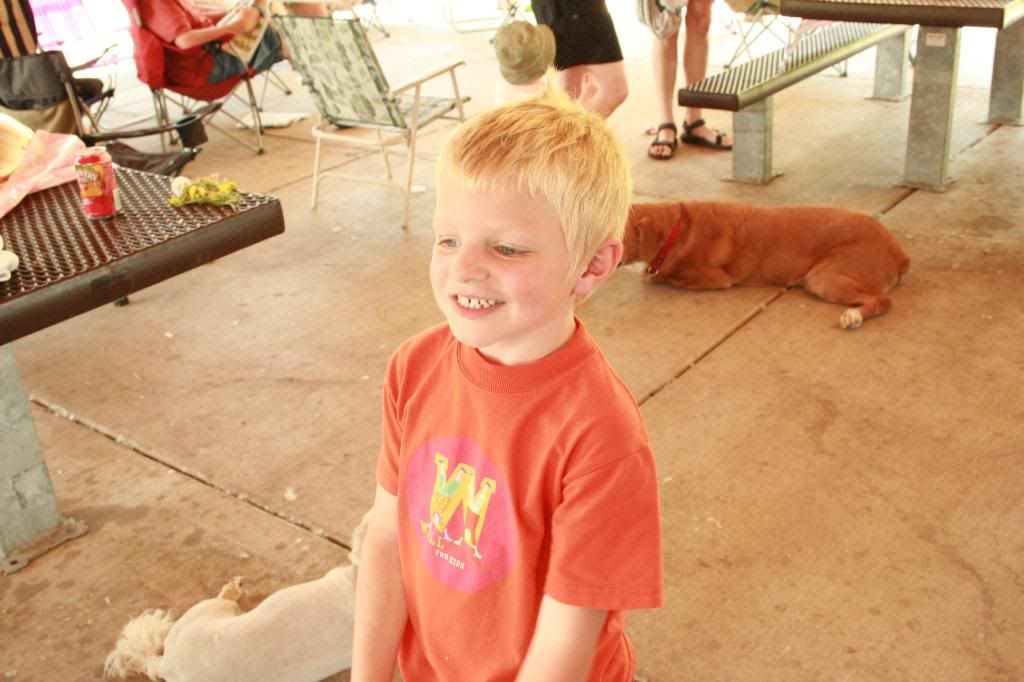 Lately the camping trip has been held at a campground by South Fork, so we take the Avon road to get there. The kids love the bumpy voices they get on the dirt road, and Matt and I enjoy seeing so much beautiful land undeveloped. The campsite has a bunch of paved paths connecting the adjoining campsites so as soon as we're out of the car, Ethan grabs his scooter and disappears for hours with his cousins.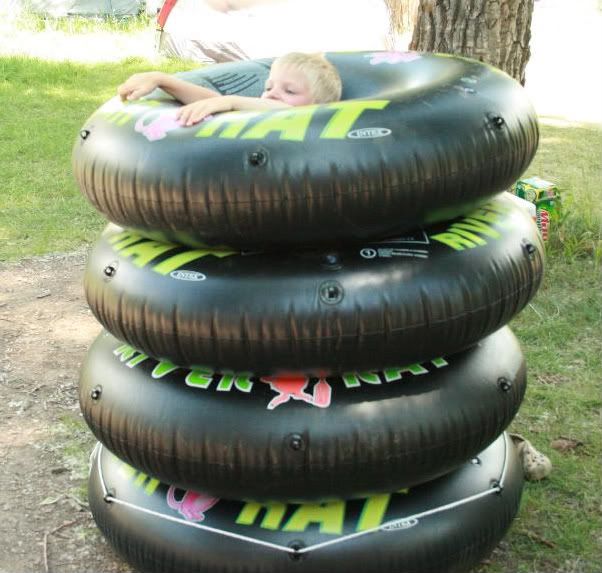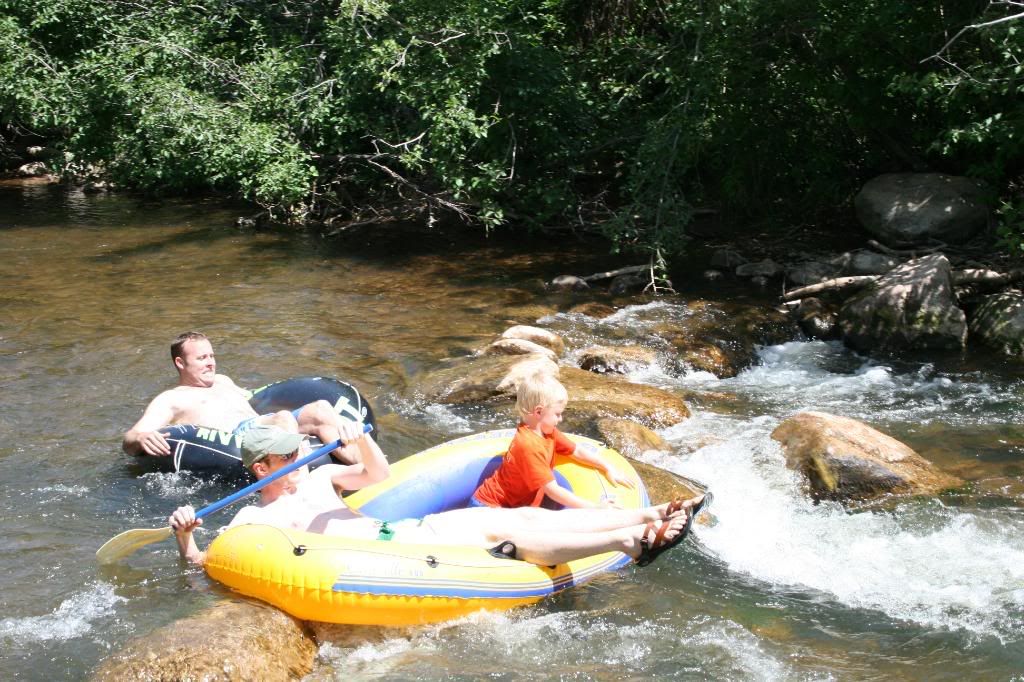 Most of the time is spent sitting around with different people, catching up, eating and telling stories. There's campfires and s'mores, and after most people have gone to bed there's a group of die hards that stays up playing games. And of course there's always a river float. After a few rides down the length of the campsite, Uncle Jeff always calls for a longer float that "should only take a couple hours at the most". It's never that short. The participants are lucky to make it back in time for dinner. It's always a refreshing way to spend the hottest part of the day, as long as you don't mind a bruised back side. You learn quick to sit high up in your tube.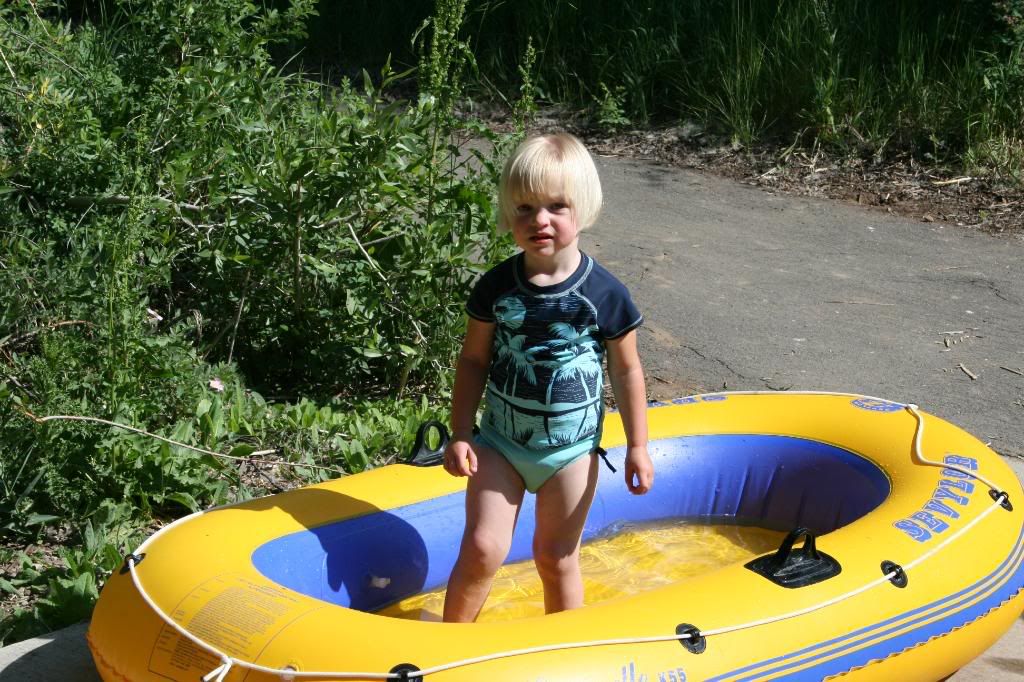 Until Jo is old enough to do the river float, she's content to play in the boat filled with water.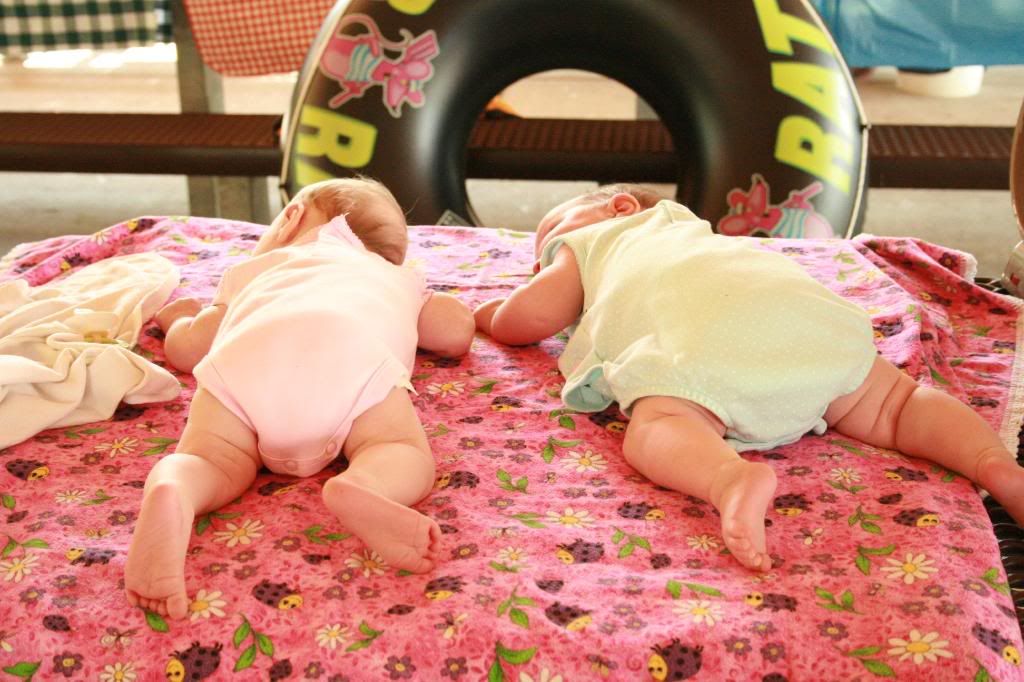 The babes seemed to cope with the heat of the day by sleeping through it. I had a little portable fan I set up to blow on them and they lazed for hours by it. That's Matt's sister Marci's baby Rocky on the left and our adorably chubby Ginny on the Right.
There's nothing quite like camping with your kids. Seeing their skin slowly disappear beneath a layer of dirt. Watching their faces glowing in the firelight as they ignite marshmallow after marshmallow. Give me camping over a theme park any day.